I decided to write this today because the flight(s) preparation will take more time than usual.
The entire route consists of three individual stages.
Due to the total length I would like to divide it into two separate Tuesdays.
Let's agree that in a week we make steps 1 and 2 and in two weeks we fly No 3 (?)
I would suggest changing the jets to turboprops. Flying this routes at low FL's is simple beautiful. You can fully enjoy the Andes.
All you need:
http://www.firlima.org/en/index.html
Excellent 3.75 arc second LOD 10 Mesh by Cesar Marinho available from flightsim.com (4 parts)
1.
Starting from Cusco (SPZO) to Juliaca (SPJL). Short 160Nm route: ILMOX UV11 MUPET
Simple VOR/DME approach with beautiful views of the famous Lake Titicaca
2.
Juliaca to Arequipa (SPQU). Direct routing to TONOS, 100Nm
The city of Arequipa is located in the southern region of Peru where the Misti volcano ends. The Misti is the main volcano but Arequipa is really sorrounded by many volcanos. In one of these volcanos the mummy of "La momia Juanita" was found.
3.
Is time for the most mysterious stage - Arequipa to Pisco (SPSO):
UAS UV12 RACAN 1441S/07506W SCO, 320Nm
Approaching Pisco (80Nm from) you can spot the legendary figures/lines of the Nazca (provided that you have the nazca.zip from flightsim.com installed).
For this purpose you must break from RACAN point to the coordinates described in the flight plan.
Fly around, take a few pictures and continue direct to Pisco (finally flat under :rofl: )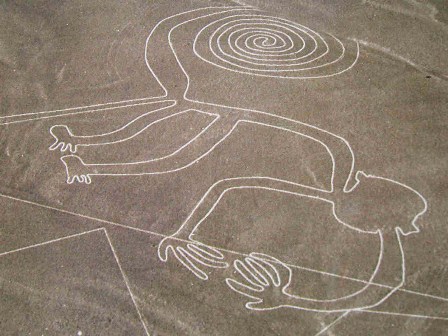 Any additional suggestions are welcome